Sandie Lillingston (aka Sandra Lillingston) is an Australian actress active between 1984 and 1994.[1]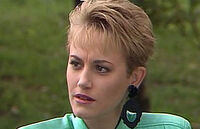 Lillingston appeared as a presenter in a short 1983 documentary One Last Chance on the probation system in South Australia.[1] Her first acting role was as the on-going character Christine Yates in the Australian Broadcasting Corporation (ABC) TV series "Sweet and Sour" in 1984.[1][2] She went on to have roles in a few films, including a minor role in Mad Max Beyond Thunderdome (1985),[1] but was most prolific in her television roles. These included Home and Away (1988—1989, as Stacey Macklin), A Country Practice (1984 as Sandy Thatcher, 1991 as Megan Thomas), ABC's Bananas in Pyjamas (1992—1993, voice-over for Amy) and Seven Network's Newlyweds[3] (1992–1994, as Marnie Phelps).[1][4]
Ad blocker interference detected!
Wikia is a free-to-use site that makes money from advertising. We have a modified experience for viewers using ad blockers

Wikia is not accessible if you've made further modifications. Remove the custom ad blocker rule(s) and the page will load as expected.