Rat-in-a-Hat
Comment

1
63pages on
this wiki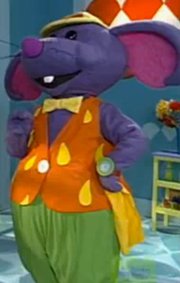 Rat-in-a-Hat
is the owner of Rat's shop and a friend to
B1 and B2
. He is busy, clever, and sometimes bossy. He says his catchphrase "Cheese and whiskers" when he notices that there is trouble around which makes him upset, but the bananas try to help him carefully until they make the things right.
Appearance
Edit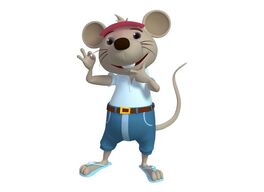 The original series
Edit
Rat originally appeared as a purple rat with a pink nose, pink ears, and a pink tail, and wears an orange and yellow cap, an orange vest with yellow teardrops, a yellow bow, big green pants, a green watch, and yellow and white shoes.
The animated series
Edit
In the animated series, his appearance is arguably changed the most out of all the cast who appeared in the original series. He is now grey instead of purple, has a black nose, and now wears new clothes such as a red cap, a cyan shirt with a collar, and blue pants with a belt. His size has also been altered to the size of a usual rat.
Rat's song
Edit
Rat sings his own song in the shop when he prepares to run it.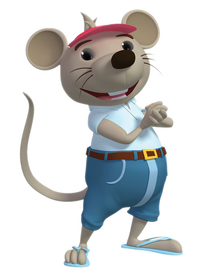 I'm a rat, I'm a rat, I'm a busy, busy rat.
I'm a rat, I'm a rat, I'm a clever, clever rat.