It's Raining is the twentieth episode of Series 1 of Bananas in Pyjamas aired on 14th August 1992.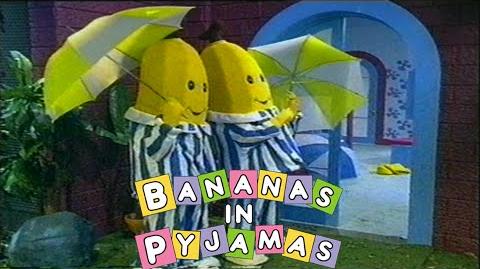 As it's a rainy day, Morgan is feeling bored; he decided he wants to go out for some munchie honey cakes. However, he needs his umbrella. Who has it?
Meanwhile at the Bananas' house, the bananas have found Morgans umbrella and are taking it to the Teddies'. As they don't want to get wet, they try wearing gumboots. However, their gumboots are too small and they decide to put their umbrellas up instead. Unfortunately, they do this inside and get stuck in the doorway. When they finally get outside and put their umbrellas up, they realise their feet are wet- they forgot to put on their shoes.