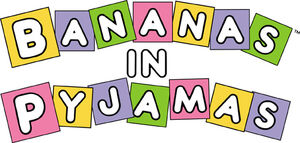 Welcome to the Bananas in Pyjamas Wiki
Bananas in Pyjamas is a TV show starring B1 and B2 that anyone can edit.
About the Bananas in Pyjamas Wiki
This is a wiki about everything to do with the Bananas in Pyjamas series. But it needs your help to keep it clear of spam, vandalism and patent nonsense. Sign in, or sign up, and join us today! :)
Characters
Latest activity
Ad blocker interference detected!
Wikia is a free-to-use site that makes money from advertising. We have a modified experience for viewers using ad blockers

Wikia is not accessible if you've made further modifications. Remove the custom ad blocker rule(s) and the page will load as expected.